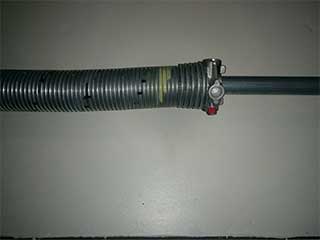 Springs are the parts of your garage door system that are in charge of supporting the weight of the panels and providing the necessary tension to move them up and down. Due to the nature of their role, they are under a lot of stress on a daily basis, and can therefore end up breaking unexpectedly. This type of scenario is highly dangerous, and an expert's assistance will be required.
Replacing Broken Springs
Our team specializes in performing this type of procedure regardless of which type of springs you have installed. Delicate skill is required in order to be able to safely and quickly replace a damaged spring, and any mishandling can lead to serious injuries, or even worse…
Adjustment and Lubrication
Replacing springs isn't all we do. We can also help you when your door begins to get off-balance, or when its operation starts being accompanied by an incessant squeaking noise. We'll adjust them properly to make sure their tension is properly distributed, and lubricate the length of their coils to keep their operation smooth and efficient.
Upgrades Are Available
If you're looking to "trade up", as it were, and get new components that can perform better than your old ones, then we have a few options to offer you. From oil-tempered springs that are far more durable and flexible than the average kind, to galvanized ones that can better withstand and resist rust and corrosion. Rest assured that any part we install will be of the highest possible quality.
Rely On Us
No matter what type of spring-related task you need completing, you can count on our team at Garage Door Repair Riverdale to get it done. We work fast and efficiently, but we never compromise safety in favor of speed. Call us today.
Give our team a call if you need help with:
Part Replacement & Repair
Oil Tempered Torsion Springs
Liftmaster Garage Door Openers
New Garage Door Installation