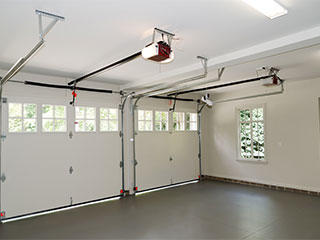 Our company specializes in opener repair and installation, and we can help you whether your current unit is acting up or if you're interested in getting a new one with the latest technological features.
The Different Types
While there are multiple brand name manufacturers with a great variety of different models you can choose from, the majority of garage door openers can be divided into three main types. Each one of these has distinct benefits and downsides, and deciding which one is the best choice for you can depend on a few factors.
The Chain, The Belt, and The Screw
Chain-drive units are often prefers for their affordability and strength, although they do require a lot of maintenance, and their noise output is quite high. Belt-drive models operate quite similarly. However, they employ a belt, as their name suggests, made of steel-reinforced rubber, which makes their operation relatively silent. They tend to be a bit more expensive, but for homeowners with a garage near their bedroom, the extra costs may be well worth it. Last but not least, we have the screw-drive openers. The main advantage these units present is their low maintenance requirements, as there are fewer parts involved in their operation.
Malfunctions and How We Solve Them
Worn out motor gears are some of the most common problems that can affect an opener. When this happens, the problematic gear needs to be replaced, which is a process that should be handled by an expert, to avoid several potential accidents. Another typical issue is of an electrical nature. Sometimes it's a part of the circuit board that gets fried, other times it's a wire that becomes loose. Our technicians can fix either scenario, and we'll offer you a quick and effective solution for both.
Maintenance and Optimization
During each one of the regular service appointments that our company provides, our experts will test your opener's photo-electric eyes. These safety sensors (as they are also called) are in charge of detecting an obstacle in the door's path, and when they become misaligned they can lead to potentially serious accidents. Since these components are very delicate, it's best that you leave the sensor realignment to our experienced team.
Ask Us Anything
Remember, Garage Door Repair Riverdale is always here to help you, whether you need some information or any type of emergency assistance. Call us today.
We also take care of:
Garage Door Opener Track Maintenance
Garage Door Extension Spring Installation
Belt Drive Opener Installation