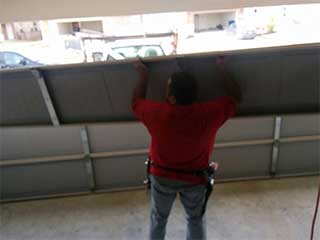 Did you know that around 1600 injuries reported to US hospitals every year have DYI garage door repairs as their main cause? A faulty unit can result in property damage, cause serious injury to you and your loved ones, or even kill. Here are top 5 reasons against making attempts to repair your garage door by yourself.
Potential of Serious Injuries

The most obvious danger of fixing a door yourself is that you could hurt yourself your loved one in a process. Broken tension springs and cables, when not handled with care, could produce enough force to break bones and cause life-threatening injuries. If someone gets hurt because of your attempted repair, you could be held liable.

Loss of Insurance Coverage

Most insurance companies will only pay for damage if a specialist handles the issue. Not hiring a professional and doing it of your own accord could result in a loss of this privilege.

You Could Make the Situation Worse

An improper DYI repair could result in irreparable damage that will cost you much more to repair than initial fault. It's better to have the repair performed by an expert straight away and eliminate the need of replacing the entire unit. Also, you may fix the issue but disturb the balance of the door, which will allow weather and pets to enter.

There is no Warranty on DYI Projects

Professional garage door repair companies will provide you with a free-of-charge service for a specific period after the repair has been carried out. This is to guarantee that no malfunctions will occur after the specialist has been done with his work. It gives you a piece of mind as you know that you're covered in case your door decides to develop a flaw again.

Quality of Spare Parts and Tools

With a professional, you know your door is getting the correct treatment – they will possess a vast array of spare parts and specialist tools needed to perform the repair (something you may not). If you are looking for a professional garage door service at a reasonable price, why not give our team from Riverdale a call? We will give our best to accommodate your needs.