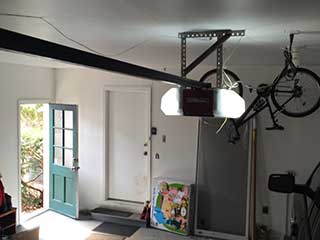 Do you want to make sure your garage door continues working for as long as possible and reduce the chance of an unexpected malfunction? Clearly, you do, which is why you should consider joining the majority of our customers and enjoy the benefits our regular maintenance services can offer you.
Longevity and Safety
The different tasks our technicians will perform during each one of our maintenance sessions will reduce the operational wear and tear that your system will suffer from. It will also keep its safety at an optimal level, as the risk of an accident will be greatly reduced as a result.
Spring Maintenance Is Very Important
Your garage door springs are the components that support the weight of the door and pull it up using the tension they store while it's closed. As a result of this, they can be very susceptible to develop all sorts of different wear and tear damages, which can gradually accumulate until the component will finally and suddenly break. However, if you have our technicians lubricate and adjust the tension of your springs on a regular basis, the chances of that will lower drastically.
Keeping a Visual Appeal
A cracked panel affects more than the curb appeal of your home, it also poses a security risk. Burglars will exploit every advantage they can, and even the slightest gap in your door panels can be a potential breach they can use to gain entry. That's why you need to have our experts inspect the condition of your door panels and weather seals every so often. If we find anything that's getting a little too worse for wear, we'll replace it on the spot (with a matching one if it's a panel, of course). A good presentable look will keep your home the envy of your neighborhood.
Safety Is a Priority
Although we come to address it last, your safety is the main focus of our maintenance services. Our technicians will perform a series of checks and tests that will make sure there is no underlying issue that's compromising the safety of you and your family members. We'll make sure your opener's photo-electric eyes are positioned correctly, and perform the sensor realignment procedure on the spot if we find that they fail to detect an obstacle properly.
Schedule an Appointment
You can count on our team at Garage Door Repair Riverdale to keep your door functioning for a long time to come. Call us today to have our technicians service your door.
Looking for more? We also offer:
Track Replacement & Repair
Garage Door Tune Up Services
Galvanized Torsion Spring Installation
New Garage Door Clickers & Remotes